Generations is a comprehensive plan that began in 2008 to relocate and expand the facilities and ministries of the church campus to better develop Kingdom-minded believers and make disciples that make disciples.
Announced November 10, 2019, Phase 2 of Generations will more than double available space and will benefit every generation from newborns to senior adults.
For media inquiries, contact Stephen Beasley, Director of Media & Communications at 423.709.9100.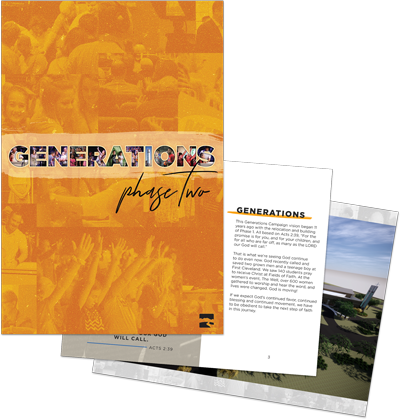 The Generation Phase Two campaign booklet presents the vision for expansion, opportunities for your involvement, key dates, and a 20-day prayer guide. Printed copies are available at the main campus or you can download a PDF copy now.
Download Booklet
30 Pages, 15MB PDF
Vision Sunday Presentation
November 10, 2019
Staying Faithful in Phase 2
December 6, 2020
Dr. Allan & Alice Lockerman Support Generations Phase 2
February 16, 2020
What If? – Pastor Jordan's Phase 2 Giving Overview
January 12, 2020
Tim & Kim deRoos' Generations Phase 1 Giving Story
February 9, 2020
Short 3D Tour
January 5, 2020
Vision Night
January 8, 2020
Vision Night
January 5, 2020
Leadership Event (Young Professionals & Senior Adults)
December 8, 2019
Leadership Event (NextGen)
December 1, 2019
The 2020 Family Meeting
January 12, 2020
A Look Back at Generations: Phase 1
November 10, 2019
Vision Sunday Highlights
November 10, 2019
| Name | Type | Creation Date | Last Updated | Link |
| --- | --- | --- | --- | --- |
| Pastor Jordan Discusses Staying Faithful in Phase 2 | Video | December 6, 2020 | December 10, 2020 9:44 am | Download |
| Dr. Allan & Alice Lockerman Support Generations Phase 2 | Video | February 16, 2020 | February 16, 2020 1:27 pm | Download |
| Tim & Kim deRoos' Generations Phase 1 Giving Story | Video | February 9, 2020 | February 10, 2020 10:39 am | Download |
| The 2020 Family Meeting | Video | January 12, 2020 | January 16, 2020 9:31 am | Download |
| What If? – Pastor Jordan's Phase 2 Giving Overview | Video | January 12, 2020 | February 10, 2020 10:38 am | Download |
| Vision Night (January 8, 2020) | Video | January 8, 2020 | January 16, 2020 9:33 am | Download |
| Vision Night (January 5, 2020) | Video | January 5, 2020 | January 16, 2020 9:32 am | Download |
| Generations Phase 2: Overview Booklet (PDF) | Document | January 5, 2020 | January 16, 2020 9:55 am | Download |
| Short 3D Tour Video | Video | January 5, 2020 | January 16, 2020 10:25 am | Download |
| Leadership Event (Young Professionals – Senior Adults) | Video | December 8, 2019 | January 16, 2020 9:32 am | Download |
| Leadership Event (NextGen) | Video | December 1, 2019 | January 16, 2020 9:32 am | Download |
| Vision Sunday Highlights | Video | November 10, 2019 | January 15, 2020 6:28 pm | Download |
| Vision Sunday Phase 2 Reveal – Full Event | Video | November 10, 2019 | January 15, 2020 6:29 pm | Download |
| Key Dates Card (5×7) (JPG) | Image | November 10, 2019 | January 16, 2020 9:57 am | Download |
| A Look Back at Generations: Phase 1 | Video | November 10, 2019 | January 16, 2020 2:53 pm | Download |